FGS-pocket atlas – a tool to diagnose Female Genital Schistosomiasis
Even though 42 million women are likely to have FGS, today only a handful of healthcare professionals and clinicians are able to diagnose the disease. The pocket atlas was made by WHO and experts to close the knowledge gap. Clinicians may also join the colposcopy course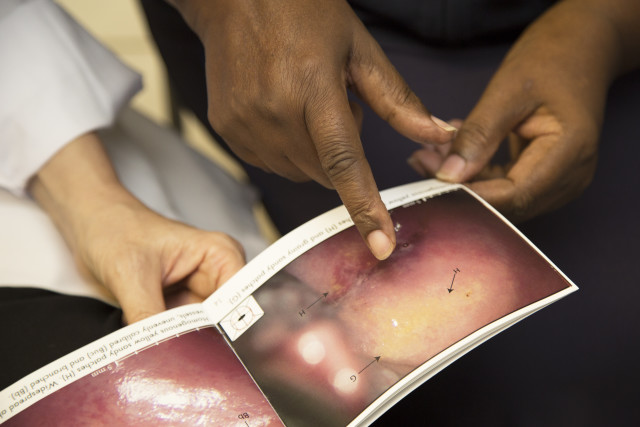 The WHO Pocket Atlas for Female Genital Schistosomiasis
The WHO FGS Pocket Atlas will be widely and freely distributed to health professional in Sub-Saharan Africa such as gynaecologists, family physicians and nurses who perform gynaecological examinations. The aim is to inform them about FGS and make them able to inform their patients and make them able to diagnose FGS or refer to others who can. Read more about Female Genital Schistosomiasis/Bilharzia.
Downloads
Hard to spot the signs
Typical FGS signs are lesions in the vaginal wall and on the cervix. They are frequently overlooked and misdiagnosed as a cancer or a sexually transmitted infection. The four different FGS clinical findings are described as grainy sandy patches, homogenous yellow sandy patches, rubbery papules and abnormal blood vessel. The atlas has several examples of each type of damage from females who provided consent and it contains images from Madagascar, Zimbabwe and South Africa.
Other resources
In addition the working group prepared an FGS poster. The workshop emphasised the need for further research to determine the role of FGS on HIV incidence, fertility, symptoms and easy diagnosis. Kindly provide feedback or comments on the WHO FGS Pocket Atlas to [email protected] and [email protected]. Is this atlas useful in your work?
Acknowledgements
The following participated in making the WHO FGS Pocket Atlas, Durban October 5th -10th 2014:
Dr Bellington Vwalika (Zambia), Dr Bodo Randrianasolo (Madagascar), Professor Borghild Roald, (Norway (N)), Dr Dariuz Ledzinski (South Africa, SA), Dr Eyrun Floerecke Kjetland (SA/N), Dr Femi Olowookorun (SA), Dr Francis Hyera (SA), Dr Hashini Galappaththi-Arachchige (N), Dr Motshedisi Sebitloane (SA), Professor Myra Taylor (SA), Dr Pamela Sabina Mbabazi (WHO Geneva), Professor Roland E Eddie Mhlanga (SA), Dr Sheila Mabote (Mozambique), Dr Sibone Mocumbi (Mozambique), Dr Sigve Holmen (N), Ms Takalani Girly Nemungadi (SA), Mr Thembinkosi Vincent Ngcobo (SA), Ms Tsakani Furumele (SA), Dr Velda Mushangwe-Mtisi (Zimbabwe), Mr Zeblon Mandla Zwane (SA), Dr Zilungile Mkhize-Kwitshana (SA). Support staff: Pavitra Pillay (Marie Curie Research Fellow), Dr Mari Molvik (Marie Curie Research Fellow), Ida Amelie Helgesen (communications officer), Siphosenkosi G Zulu (Marie Curie Research Fellow), Kumud Nina Henriksen (event organiser), Khantsho Kholisang, (administrator), Thulisile Mkhize (driver), John-Erik Armelius (logistical assistance), Nonjabulo Pearl Msomi (Programme assistant).