I understood how research could help my patients
Doctor

Free research programmes that might help you in your work
Helps you save the literature you need and make notes on each interesting article. Use this to build your bibliography (usually last page of applications and proposals), and format the list in one click. Alternative programmes are EndNote and Reference Manager but both of those require institutional links or payment.
Enter your research data in an efficient manner.
Biomedical and research ethics documents and key links
All health-related biomedical and social research at the University of KwaZulu-Natal requires prior ethical clearance by the Biomedical Research Ethics Committee (BREC)*.
Researchers must take this 8-hour course (can be taken chapter by chapter) before the application is sent:

https://elearning.trree.org/login/signup.php?

BREC Applications must be made on the appropriate form:

http://research.ukzn.ac.za/Research-Ethics/Biomedical-Research-Ethics.aspx
*BREC is registered with the SA Department of Health's National Health Research Ethics Council (http://www.doh.gov.za/nhrec/) (NHREC REC 290408-009). BREC is also registered with the US Office for Human Research Protections (http://www.hhs.gov/ohrp/) (OHRP) and has Federal-Wide Assurance (FWA) Assurance number 678, Institution number IORG 0000923 and IRB number 00001293.
Alternative ways to access scientific articles

is committed to publishing "Open Access" however not everyone is. You may struggle finding literature for your research. You may miss out on important information:
Start with Pubmed, read only the articles flagged "

FREE..

.".
Ask a friend scientist to access it through their institution.
Signing up for ORCID, giving you unique researcher identifier, could help you streamline Open Access processes. We encourage you to sign up.
Write to the corresponding author ask for a copy of their article:

find address on the journal website or
contact them through ORCID (may take time)

Scientist on duty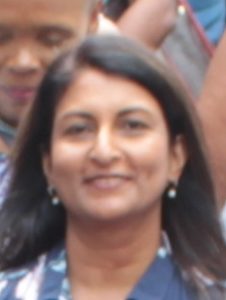 Pavitra did her PhD with BRIGHT Academy and is the Dean of Health Sciences at Durban University of Technology.
You may request individual meetings with her or group sessions.
Planned research training sessions
2020 November 23-27th Workshop in implementation research
2020 October 26-30th Workshop in research methodology (Masters level)

Completed training sessions
2020 February 8th Questionnaires
2020 February 6-7th Masters project
2020 January 9th Co-creation workshop
2020 January 8-16th Grant writing training
2019 December 12th Masters projects
2019 December 9-18th Grant writing
2019 October 22nd Public Dissertation
2019 October 12-13th Article writing
2019 September 24th Grant application
2019 August 15th 4-8 PM Grant application
2019 July 18th 8 AM-7 PM PhD protocol II
2019 June 27th 2-7 PM PhD protocol I
2019 June 19th 4-7 PM Data collection
2019 April 12-14th Masters protocol III
2019 April 3rd 3-8 PM Masters protocol II
2019 March 12th 8 AM-7 PM Masters I
2019 February 27th 2-7 PM Ethics application
2019 February 19th 4-7 PM Ethics application
2019 February 4 – 8th Ethics appl. workshop
2019 February 16th 5-8 PM – Scientific braai
2018 December 12th 2-7 PM Literature search
2018 September 27th 2-5 PM Protocol
2018 August 15th 4-8 PM Meet the professor
The BRIGHT Academy* in Ugu District provides training and a safe base for field activities. Users must be committed to activities that are/will soon be useful for Southern African patients/clients/students or health practices.
*BRIGHT Academy is owned by the non-profit organisation CBTHR and has steering committee members from Universities of KwaZulu-Natal, Copenhagen and Agder, Durban University of Technology, Department of Health and Oslo University Hospital.