Press
A core objective of BRIGHT Academy is to share our results, progress, and to increase the knowledge about Bilharzia.
In order to see the latest news about BRIGHT Academy: News section
Do you want to know what we are doing?
Follow us on Twitter.
A collection of high resolution downloadable photographs of the people of BRIGHT and our work can be found in our photo gallery.
For more questions please contact our communication officer:
Ida Amelie Mayes: [email protected]
South Africa no: (+27) 76 692 819
Norwegian no: (+47) 906 56 702
---
Follow on social media
Although the situations portrayed on this website are typical of the research none of the persons in this website are research patients (study participants). None of the persons portrayed in the treatment and investigative situations are minors. They have kindly given their permissions to publish the images.
Kinldy credit photographer Håvard Holme.
---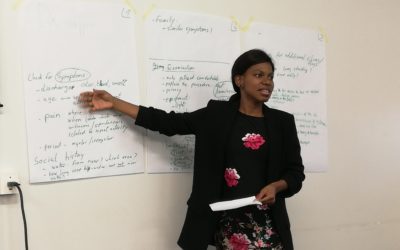 "Health professionals do not know that bloody discharge, smelly discharge, pain when you have sex or infertility may be caused by Female Genital Schistosomiasis (FGS)", the conference participants heard at the virtual IPVC (International Papillomavirus Conference, Toronto November 16-23, 2021 ). "Currently these women are treated mistakenly as though they have cancer or as if they have a sexually transmitted disease, but women and girls may have FGS instead. Their daughters and sisters  who use the same source of water for domestic purposes will make up a new generation of women with the same problem, wrongly diagnosed, untreated, misinformed and suffering. For the first time, we are suggesting to pair the diagnosis of cervical cancer and FGS in the same programme, elevating the standard of care." FGS is a variant of Bilharzia, Schistosoma haematobium, transmitted in fresh water in Africa. The disease lasts for a lifetime. Please listen to world experts in cervical cancer and FGS who are teaming... read more