Press
A core objective of BRIGHT Academy is to share our results, progress, and to increase the knowledge about Bilharzia.
In order to see the latest news about BRIGHT Academy: News section
Do you want to know what we are doing?
Follow us on Twitter.
A collection of high resolution downloadable photographs of the people of BRIGHT and our work can be found in our photo gallery.
For more questions please contact our communication officer:
Ida Amelie Mayes: [email protected]
South Africa no: (+27) 76 692 819
Norwegian no: (+47) 906 56 702
---
Follow on social media
Although the situations portrayed on this website are typical of the research none of the persons in this website are research patients (study participants). None of the persons portrayed in the treatment and investigative situations are minors. They have kindly given their permissions to publish the images.
Kinldy credit photographer Håvard Holme.
---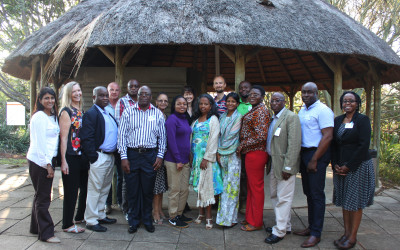 Aiming to train practicing rural nurses, gynaecologists and general practitioners in the gynaecological visual examination techniques, they should be able to identify cancer, precancerous changes, female genital schistosomiasis and other common infections. University of KwaZulu-Natal (UKZN), Discipline of Gynaecology and Obstetrics and Discipline of Public Health hosts  a 2-day course in colposcopy together with Oslo University Hospital. Years: 2012-2014-2016-2018 The programme (5 CPD points) is subject to change: Day 1 8:00 Welcome Remarks and Pre-test Quiz 8:15 Screening for Cervical cancer 9:00 Cytology: Pre-invasive and invasive Ca Cervix / HPV. Tests: Pap, LBC, other PCR limitations, requirements. Pregnant and postmenopausal 9:45 Abnormalities in genital schisto; differential diagnosis 11:00 The Colposcopic features of cervical neoplasia 12:15 Colposcopy – live demonstration 14:00 Treatment: cervical intraepithelial neoplasia: 14:45 HPV vaccination Day 2 8:00 Gynaecological schisto as a public health problem 9:00 Reproductive health, rural settings, ethics 9:30 Differential diagnosis Female genital schistosomiasis. Confounders in HIV and reproductive tract research, brief intro to practical and statistical possibilities. 11:00 Colposcopic features of female genital schistosomiasis 11:45 Rural research, genital schisto and diagnostic possibilities 15:30 Test: visual identification and management 16:00 Closure and Vote of Thanks Picture: FGS Experts: Dr Bellington Vwalika (Zambia), Dr Bodo Randrianasolo (Madagascar), Professor Borghild Roald, (Norway (N)), Dr Dariuz Ledzinski (South Africa, SA), Dr Eyrun Floerecke Kjetland (SA/N), Dr Femi Olowookorun (SA), Dr Francis Hyera (SA), Dr Hashini Galappaththi-Arachchige (N), Dr Motshedisi Sebitloane (SA), Professor Myra Taylor (SA), Dr Pamela Sabina Mbabazi (WHO Geneva), Professor Roland E Eddie Mhlanga (SA), Dr Sheila Mabote (Mozambique), Dr Sibone Mocumbi (Mozambique), Dr Sigve Dhondup Holmen (N), Ms Takalani Girly Nemungadi (SA),... read more
8th European Congress for Tropical Medicine and International Health, 10 – 13 September 2013, Copenhagen, Denmark.  Oral presentations Schistosoma PCR among high school girls in South Africa as a complementary diagnostic tool for Female Genital Schistosomiasis. P Pillay, M Taylor, SG Zulu, SG Gundersen, E Kleppa, K Lillebo, EF Kjetland , EAT Brienen, L van Lieshout One hundred years of research into genital schistosomiasis. EF Kjetland Diagnosing Female Genital Schistosomiasis using cell phone technology. SD Holmen, K Lillebø, E Kleppa, M Taylor, F Albregtsen, EF Kjetland HIV risk in Women with Female Genital Schistosomiasis. E Kleppa, V Ramsuran, SG Zulu, GH Karlsen, K Lillebø,, SD. Holmen,, M Onsrud, SG Gundersen,, Myra Taylor, T Ndung'u, BJ Vennervald, EF Kjetland Poster presentations Estimating the cost of the Mass Treatment Campaign for Schistosomiasis in Ugu District, KwaZulu-Natal, 2012.  A. Maphumulo, S. Gagai, A. Lothe, N. Zulu, D. Zwane, A. Kildemoes, B. Vennervald , M. Munsami, S.Gundersen, M.Taylor, EF. Kjetland An association study of Schistosoma haematobium infection and asymptomatic bacteriuria in young South African females. AO. Kildemoes, EF Kjetland, M Taylor and BJ Vennervald Co-infection with Schistosoma haematobium and soil-transmitted helminths among school girls aged 10-12 years from rural Ugu district in southern KwaZulu-Natal, South Africa: a cross-sectional survey.  E Helland, M Molvik, K Lillebø, E Kleppa, SG G Zulu, SG Gundersen, JD Kvalsvig, M Taylor, EF Kjetland, BJ Vennervald Distance of river from school may be an indicator for S. haematobium infection amongst pupils from Ugu district in KwaZulu-Natal, South Africa. SG Zulu, EF Kjetland, , M... read more
No Results Found
The page you requested could not be found. Try refining your search, or use the navigation above to locate the post.