BRIGHT Academy research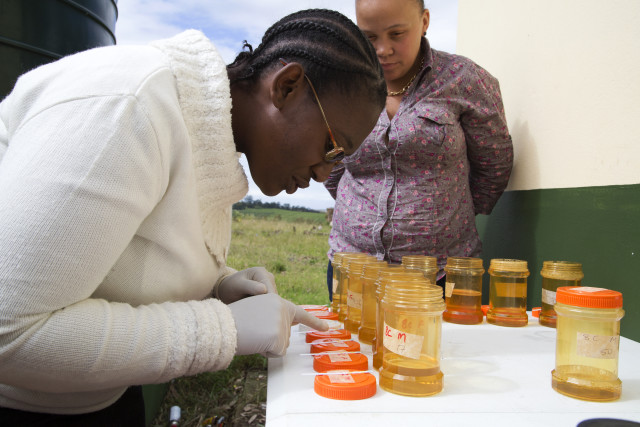 Female Genital Schistosomiasis (FGS) as a risk factor for HIV
Women who do not have access to safe water, such as the inhabitants in rural Africa may have genital lesions caused by the parasite Schistosoma haematobium (Bilharzia). In recent studies in Zimbabwe and Tanzania 3 to 4-fold higher prevalences of HIV have been found in women with genital schistosomiasis. There is increasing evidence that schistosomiasis is a co-factor in HIV-transmission, similar to the sexually transmitted diseases. We hypothesize that standard treatment can prevent HIV-transmission in young women. Substantiation of the link between HIV and schistosomiasis and the biological mechanisms behind it would provide a novel intervention point against HIV transmission through implementation of the recommended mass treatment. And also importantly, information to the individual woman about her risks.
Pathogenesis and clinical presentations of FGS
Genital lesions caused by the parasite Schistosoma haematobium (Bilharzia) are commonly found in inhabitants in rural Africa where the people do not have access to clean water for domestic use and for play. Through our work in Zimbabwe we unexpectedly found that in adult women, genital lesions were calcified and standard treatment was ineffective. We have limited knowledge about the clinical and histological courses of genital S. haematobium infection. What does an early and late lesions look like? We will also explore the impacts of S. haematobium and S. mansoni on fertility and cancer. BRIGHT Academy addresses the clinical gaps and the unresolved research questions.
Diagnosis of FGS at the point of care
Health professionals are a long way from diagnosing this disease and we aim to explore indirect, non-invasive and syndromic diagnostic methods.
Diagnostic imaging
FGS can now be diagnosed with digital image analysis of the colour of the lesion but this method is yet to be implemented in endemic areas. Furthermore, the yellow colour may occur in other diseases and the lesions are visually different in Madagascar from Southern Africa. We do not know which lesions are present in other countries, when to treat with a view to prevent chronic lesions and we do not know how to diagnose the disease suitably in endemic areas.
Diagnosis by ordinary health professionals
Increased awareness amongst health professionals and patients is a prerogative for correct management. Therefore we have made
Treatment of FGS
Praziquantel is a potent anti-helminthic drug, which kills the worms but has limited effect on pathology that was established by egg deposition a long time ago. Therefore, once schistosomiasis lesions (visualised as so-called sandy patches) are established, the lesions and the surrounding inflammation, persist despite treatment. In fact, it has been shown that treatment has limited effect on the disease in adult women. Interestingly, however, a retrospective study showed that women who had received anti-schistosomal treatment in childhood had significantly fewer lesions and less contact bleeding (Hegertun et al 2013). In order to prevent the morbidity caused by repeated re-infection, praziquantel must likely be administered several times in childhood. The pivotal work in this programme is to explore if treatment has an effect in young women. The optimal age for treatment with praziquantel is unknown.