Press
A core objective of BRIGHT is to share our results, progress, and to increase the knowledge about Bilharzia.
In order to see the latest news about BRIGHT: News section
Do you want to know what we are doing?
Follow us on Twitter.
A collection of high resolution downloadable photographs of the people of BRIGHT and our work can be found in our photo gallery.
For more questions please contact our communication officer:
Ida Amelie Mayes: [email protected]
South Africa no: (+27) 76 692 819
Norwegian no: (+47) 906 56 702
---
Follow on social media
Although the situations portrayed on this website are typical of the research none of the persons in this website are research patients (study participants). None of the persons portrayed in the treatment and investigative situations are minors. They have kindly given their permissions to publish the images.
Kinldy credit photographer Håvard Holme.
---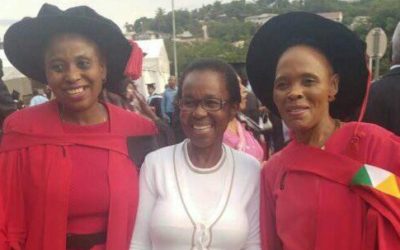 BRIGHT Researcher, Nonhlanhla Mbatha (right) was awarded a PhD for her work on virus types in rural young women that may cause cancer. High-risk human papillomavirus infections occur frequently in young women. The available vaccines cover up to seven high-risk-HPV types and two low-risk types. Amongst 1223 rural young women of KwaZulu-Natal 301 (25%) were positive for hr-HPV. The nine predominant genotypes in descending order were HPV types 16 (22 %), 51 (13 %), types 18 (13 %), 35 (11%), 33 (11%), 56 (9 %), 45 (8 %), 52 (7 %) and type 59 (7 %). The types HPV 35, 51, 56 and 59 – representing as many as 40.62% of the dangerous viruses, are not covered by any vaccine. These types were among the most prevalent in the young women of KwaZulu-Natal. This poses an important hurdle in the fight against cervical cancer and new vaccines should be developed. We congratulate Dr Mbatha and her main tutor (Dr Zilungile Kwitshana, left) with the eminent work. Title: "Human papillomavirus in adolescents in rural KwaZulu-Natal, South Africa" PhD registered: University of KwaZulu-Natal (UKZN), South Africa Main supervisor: Dr Zilungile Kwitshana (Mangosuthu University of Technology, South Africa/UKZN) Co-supervisors: Professor Myra Taylor (UKZN) and Dr Marc Baay (University of Antwerp,... read more
No Results Found
The page you requested could not be found. Try refining your search, or use the navigation above to locate the post.