Press
A core objective of BRIGHT Academy is to share our results, progress, and to increase the knowledge about Bilharzia.
In order to see the latest news about BRIGHT Academy: News section
Do you want to know what we are doing?
Follow us on Twitter.
A collection of high resolution downloadable photographs of the people of BRIGHT and our work can be found in our photo gallery.
For more questions please contact our communication officer:
Ida Amelie Mayes: [email protected]
South Africa no: (+27) 76 692 819
Norwegian no: (+47) 906 56 702
---
Follow on social media
Although the situations portrayed on this website are typical of the research none of the persons in this website are research patients (study participants). None of the persons portrayed in the treatment and investigative situations are minors. They have kindly given their permissions to publish the images.
Kinldy credit photographer Håvard Holme.
---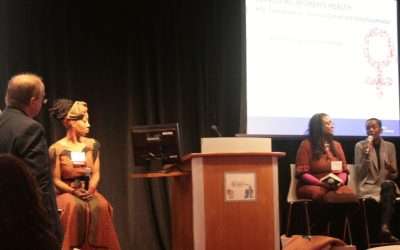 Coinciding with the United Nations Commission on the Status of Women, United Nations Joints Programme for HIV and AIDS (UNAIDS) held a meeting at New York Academy of Science to highlight recent advances and point out areas for synergy and collaboration with UNAIDS in three areas: (1) cervical cancer, (2) hormonal contraception, (3) female genital schistosomiasis (FGS). These three issues are currently not part of any HIV programme. Female Genital Schistosomiasis (Bilharzia, FGS) is a neglected tropical disease affecting approximately 55 million adolescent girls and women. Treatment for Bilharzia may reduce the risk of HIV infection, so there are opportunities for collaboration between HIV programmes and Bilharzia Control Programmes. HIV and FGS are "converging epidemics" which suffer from "lack of attention and lack of investment" said Professor Terry McGovern Similarly, in HIV prevention programmes there are possibilities to screen and prevent cervical cancer in women living with HIV. They are more likely to be infected with human papillomavirus (HPV), and up to 5 times more likely to develop both early and invasive cancers caused by HPV. Furthermore, a large randomised trial is underway and women and National HIV programmes are discussing the difficult choices that need to be made if the trial confirms certain types of contraceptives increase the risk for HIV. Organising committee: UNAIDS: Peter Godfrey-Faussett and Celeste Sandoval, WHO: Shona Dalal, CDC: Pragna Patel, NYAS: Sonya Dougal Talks: Annah Sango, Zimbabwe Young Positives Chelsea Polis, PhD, The Guttmacher Institute Danielle Engel, MA, United Nations Population Fund (UNFPA) Ebony Johnson, MHS, Global Coalition on Women and AIDS, Athena Network Erna Milunka Kojic, MD, Mount Sinai St Luke's, Mount Sinai West,... read more
No Results Found
The page you requested could not be found. Try refining your search, or use the navigation above to locate the post.