Press
A core objective of BRIGHT Academy is to share our results, progress, and to increase the knowledge about Bilharzia.
In order to see the latest news about BRIGHT Academy: News section
Do you want to know what we are doing?
Follow us on Twitter.
A collection of high resolution downloadable photographs of the people of BRIGHT and our work can be found in our photo gallery.
For more questions please contact our communication officer:
Ida Amelie Mayes: [email protected]
South Africa no: (+27) 76 692 819
Norwegian no: (+47) 906 56 702
---
Follow on social media
Although the situations portrayed on this website are typical of the research none of the persons in this website are research patients (study participants). None of the persons portrayed in the treatment and investigative situations are minors. They have kindly given their permissions to publish the images.
Kinldy credit photographer Håvard Holme.
---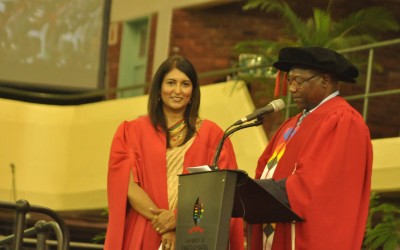 The examiners of Dr Pavitra Pillay's PhD thesis wrote: "I am highly impressed with the excellent quality…. this work is of vital importance for South Africa and should be heard by anybody interested cervical cancer".  "The studies have been well planned and the candidate has done very nice and solid scientific work." In her thesis Dr Pillay has shown how schistosomiasis can be a potential risk factor for the acquisition cervical squamous cell atypia and HIV. It is recommended that regular mass drug administration for schistosomiasis is implemented and public health interventions raising awareness of cervical cancer are instituted targeting young women and men in endemic populations. Title: "Female genital schistosomiasis (FGS) is a potential risk factor for squamous cell atypia and HIV among young women from schistosomiasis endemic populations" PhD registered: University of KwaZulu-Natal (UKZN), South Africa Main supervisor: Professor Myra Taylor, UKZN Co-supervisors: Dr Eyrun F Kjetland, Oslo University Hospital, Norway/UKZN and Professor Lisette van Lieshout, Leiden University Medical Centre, The Netherlands Other supervisor: Professor Borghild Roald, University of Oslo, Norway ... read more
No Results Found
The page you requested could not be found. Try refining your search, or use the navigation above to locate the post.