Press
A core objective of BRIGHT is to share our results, progress, and to increase the knowledge about Bilharzia.
In order to see the latest news about BRIGHT: News section
Do you want to know what we are doing?
Follow us on Twitter.
A collection of high resolution downloadable photographs of the people of BRIGHT and our work can be found in our photo gallery.
For more questions please contact our communication officer:
Ida Amelie Mayes: [email protected]
South Africa no: (+27) 76 692 819
Norwegian no: (+47) 906 56 702
---
Follow on social media
Although the situations portrayed on this website are typical of the research none of the persons in this website are research patients (study participants). None of the persons portrayed in the treatment and investigative situations are minors. They have kindly given their permissions to publish the images.
Kinldy credit photographer Håvard Holme.
---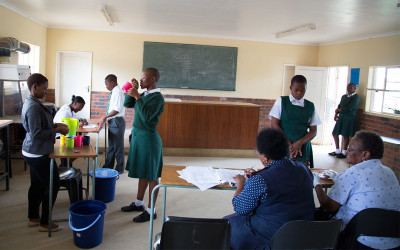 Ten countries – Kenya, Lesotho, Malawi, Mozambique, South Africa, Swaziland, Tanzania, Uganda, Zambia, and Zimbabwe – account for nearly half of all the new HIV infections that occurred among adolescent girls and young women globally in 2014. Girls and young women account for 71 percent of new HIV infections among adolescents in sub-Saharan Africa. This must change. The DREAMS initiative aims to help girls develop into Determined Resilient Empowered AIDS-free Mentored and Safe women. Many adolescent girls and young women lack a full range of opportunities and are too often devalued leading them to be seen as unworthy of investment or protection. Social isolation, economic disadvantage, discriminatory cultural norms, orphanhood, gender-based violence, and school drop-out all contribute to girls' vulnerability to HIV. We wish to ensure an AIDS-free future for adolescent girls and young women. DREAMS will build upon existing evidence-based approaches and infuse additional resources and innovative approaches to better meet the needs of adolescent girls and young women. Read more... read more
No Results Found
The page you requested could not be found. Try refining your search, or use the navigation above to locate the post.