Press
A core objective of BRIGHT is to share our results, progress, and to increase the knowledge about Bilharzia.
In order to see the latest news about BRIGHT: News section
Do you want to know what we are doing?
Follow us on Twitter.
A collection of high resolution downloadable photographs of the people of BRIGHT and our work can be found in our photo gallery.
For more questions please contact our communication officer:
Ida Amelie Mayes: [email protected]
South Africa no: (+27) 76 692 819
Norwegian no: (+47) 906 56 702
---
Follow on social media
Although the situations portrayed on this website are typical of the research none of the persons in this website are research patients (study participants). None of the persons portrayed in the treatment and investigative situations are minors. They have kindly given their permissions to publish the images.
Kinldy credit photographer Håvard Holme.
---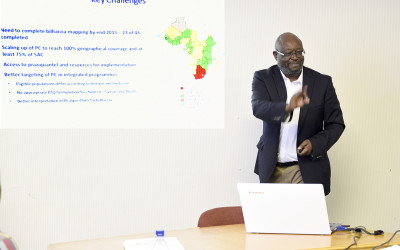 Child stunting, anaemia, impaired learning ability and the negative impact on health and socio-economic status may be prevented by correct treatment and Sister Siphumile Mlambo, CDC Ugu, informed us that South Africa is one of the five countries – worldwide – that has yet to map the presence of the worm diseases. In order to curb the devastating health consequences of worms some areas might need mass-treatment. Ugu District has been the first to pilot mass-treatment in some schools the last decade. However many areas in South Africa are unexplored and therefore urine and faeces must be collected in each of South Africa's 52 districts. This will make it possible to decide on the best treatment strategies for the different areas. Ugu District Department of Health: Deputy District Manager, Sister Thoko Ntuli emphasised the importance of a multi-disciplinary approach to managing urogenital Bilharzia and the soil-transmitted helminths (intestinal worms). Dr Lester Chitsulo (Geneva/Malawi) who has worked on Female Genital Schistosomiasis and so-called Neglected Tropical Diseases for the World Health Organisation presented the plight of children with schistosomiasis and discussed the necessity for early management of disease. Dr Femi Olowookorun, Ugu District Medical Officer, spoke about the possible intervention points in the wake of the upcoming infant syrup for treatment of the disease. The BRIGHT team (University of KwaZulu-Natal) presented the latest news in research and also gave a practical approach to teenagers in need of health services. A lively discussion ensued, especially as Dr. Patricia Ndhlovu, Imperial College, UK,  spoke about the hot spots of infested rivers near some of our local schools. Sister Siphumile Mlambo Dr Femi Olowookorun BRIGHT team, Sister Nombeko Mpofana (below)... read more
No Results Found
The page you requested could not be found. Try refining your search, or use the navigation above to locate the post.