South Africa is the only country that has not yet found out how much soil transmitted helminths and schistosomiasis there is. However this is about to change.
The Centre for Disease Control, Mrs Takalani Nemungadi, will lead the work to map South Africa and the WHO is committed to contribute to the exercise which will take place before March 2016. Urine and faeces will be collected in Grade 5 pupils in South Africa's 52 districts to look for water-transmitted worms: Bilharzia (Schistosoma haematobium, Schistosoma mansoni), and soil-transmitted worms: Hookworm, Ascaris lumbricoides, and Trichuris trichiura. Each district will be divided into 2-4 ecological zones and in each of these zones 3-5 schools will be randomly selected for testing.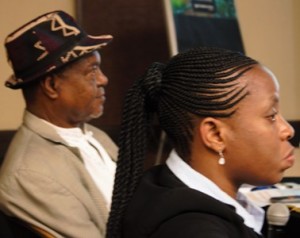 Mrs Takalani Nemungadi, Department of Health deep in concentration with Professor Trevor Mulaudzi, University of Limpopo, at a preparatory meeting in Pretoria today. The Department of Education has already committed to treating the soil transmitted worms in the entire country, you can read more here.
Do prepare your school for mapping and for treatment.