After a generous donation  of buildings by the Royal Norwegian Embassy in Pretoria we opened the new BRIGHT Rural Research Centre in the presence of dignitaries from the Ugu Department of Health, and University of KwaZulu-Natal – Public Health /  Obstetrics and Gynaecology, Ugu Hospitals, Oslo University Hospital (Norway) and University of Agder (Norway).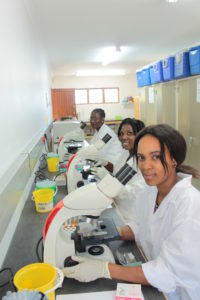 The BRIGHT Rural Research Centre will provide training for PhD and Masters Students who will contribute to the work rural health problems. BRIGHT will facilitate interaction between researchers and implementers (policy makers and local departments) to allow for research that can contribute to better health .
BRIGHT members have been largely from the medical profession but BRIGHT will widen its scope to encompass laboratory, education and social anthropological research. The new facilities will ensure a sustainable site for specimen storage and scientific excellence and will be the beginning of a permanent presence in the rural community.
Back row from the left: Dr Busisiwe Dlamini (CEO and Medical Manager 
Port Shepstone Hospital), Professor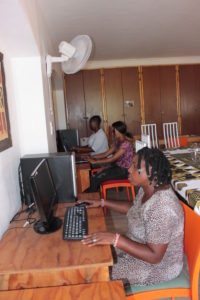 and medical doctor Svein Gunnar Gundersen (University of Agder, Norway), Mr Carmelo Pistilli (Logistician, BRIGHT), Mr Rob  Ferreira (CEO Margate Hospital), Mr Roy Farai Manyaira (Data manager/IT, BRIGHT)
7th row: Associate Professor and Psychologist Thirusha Naidu (University of KwaZulu-Natal (UKZN)), Dr Frank Olav Pettersen (CEO Norwegian Centre for Imported and Tropical Diseases),
6th row: Dr O Dabibi (CEO Murchison Hospital), Dr Saloshni Naidoo (Head of Department, Disci
pline of Public Health, UKZN), Ms Thulisile Mkhize (Field assistant and transport, BRIGHT), Ms Sarah McKaw (CEO Margate Hospital), Ms Andile Mtshali (PhD student), Mr Edmore Mazani (Masters Student)
5th row: Dr Nonhlanhla Mbatha (Senior Lecturer Durban University of Technology (DUT), former PhD candidate), Ms Silindile Gagai (Administrator, BRIGHT), Dr Femi Olowookorun (Medical Manager, Ugu District Department of Health)
4th row: Dr Pavitra Pillay (Senior Lecturer DUT, former PhD candidate), Ms Mavis Jula (Matron), Professor Borghild Roald (University of Oslo/Oslo University Hospital (OUH), Norway), Ms Thobekile Madwe (Field and laboratory assistant)
3rd row: Professor Myra Taylor (Director BRIGHT and UKZN), Ms Londiwe Radebe (HIV Counsellor, Field Assistant), Professor Eyrun F Kjetland (BRIGHT, OUH, UKZN), Ambassador Trine Skymoen (The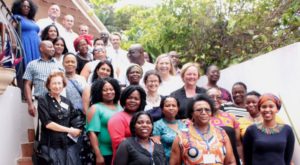 Royal Norwegian Embassy in Pretoria, South Africa)
2nd row: Ms Piwokuhle Cele (HIV Counsellor, Field Assistant), Ms Zibuyile Chiliza (Field Assistant an
d laboratory assistant), Research nurse Elphina Khwela (BRIGHT), Ms Zolile Ndovela (Verification, control and field assistant)
Front row from the left: Sibongile Nzimande (Field assistant and transport), Research nurse consultant Glory Hlengwa (BRIGHT), Ms Manelisi Majiya (Field and laboratory assistant)